~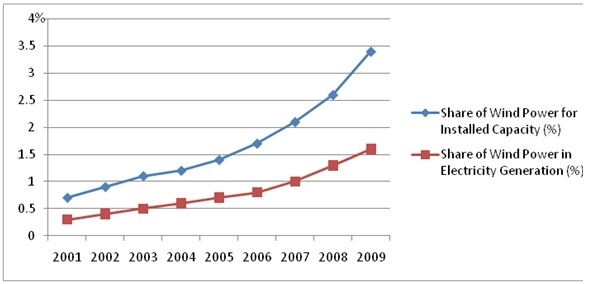 And 22.8% annual growth rate
(CAGR)
over 5 years to 447.7 GW by Dec 31, 2014. That's equivalent to approx. 447 nuclear plants worth of generating capacity.
BTM estimates that global installed cumulative capacity will increase at a CAGR of 22.8% between 2009 and 2014, reaching 447,689MW by the end of 2014.
45 GW more projected for 2011 alone.
Wind turbine installations will bounce back in 2011 after stalling this year, according to a report from Bloomberg New Energy Finance. Turbines with an electricity-generation capacity of 45 gigawatts are likely to be erected next year, up from about 37.7 gigawatts this year.
Wind Power Turbine Installations Forecast to Rebound in 2011 After Slump
~